Specialty Grades
Anionic PVOH T Series
GOHSENX™ T Series
An anionic specialty modified PVOH having a carboxyl group on its side chain.
As a coating agent (especially for paper), adhesive, and binder, GOHSENX™ T has earned a great reputation globally as well as domestically for its excellent solubility, bonding power, and reactivity of the carboxyl group.
Structural formula

Properties

・Its aqueous solution behaves as a polymer electrolyte.
・Excellent solubility in water compared with ordinary PVOH.
・Its aqueous solution is excellent in viscosity stability, and hardly to occur to abnormalities in fluidity under high shear speed; therefore, high speed coating is possible.
・Excellent solubility in aqueous alkali solutions.
・Features good compatibility with water-soluble polymers such as starch.
・Forms a chelate with a metal ion (in particular, aluminum ion) to cross-link and insolubilize the metal ion.
・Greatly improves the surface and Z-axis strength of paper when coated.
・Features much better barrier properties than ordinary PVOH.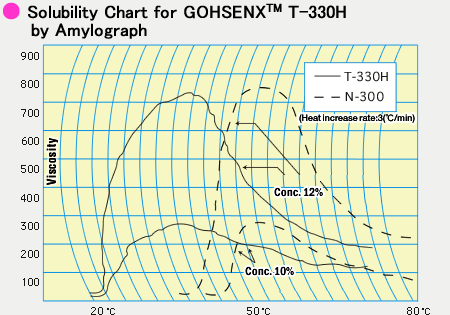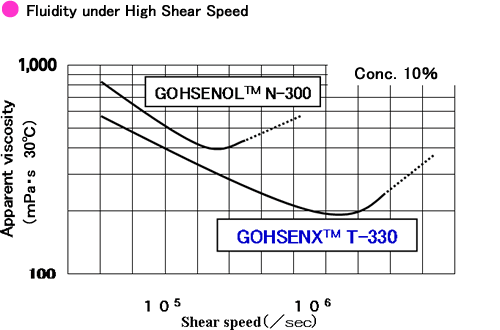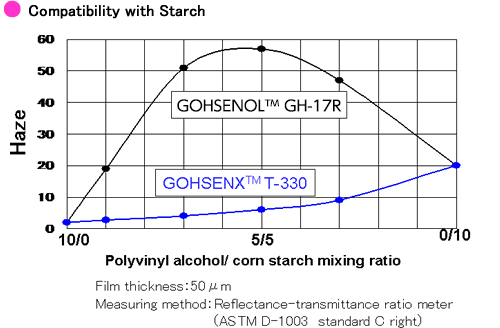 Technical Specifications
Grade
Saponification Value
(mol %)
Viscosity
(mPa・s) *1
pH *2
Applications

T-330H

≧99.0

27.0~32.0

6.0~8.0

Sizing agent for Printing paper
Coat paper
NCR paper (Carbonless) Release paper
Emulsifier for PVAc-Em Adhesive
Cement mortar agent
Film
Drilling fluid control agent

T-330

95.0~98.0

27.0~33.0

6.5~7.5

T-350

93.0~95.0

27.0~33.0

6.5~7.5
*1 : 4% aqueous solution at 20℃
*2 : 4% aqueous solution at 30℃
Crosslink with Polyamide Epichlohydrin

Product

Amount of
Cross-linker
(%)

Film Drying Conditions

Elution Rate
(%)

GOHSENX™
T-330
0
23℃× blow-drying
70℃×2min.
70℃×10min.
100
100
100
5
23℃× blow-drying
70℃×2min.
70℃×10min.
100
100
64
10
23℃× blow-drying
70℃×2min.
70℃×10min.
71
59
42
Elution rate: After soaking film in 70℃ water for 1 hr
Cross-linker: WS-570 (Solid: 12.5%)   manufactured by Seiko PMC
Amount of cross-linker: Active substance/PVOH
Biodegradability

Product

Biodegradability
(%)

GOHSENOL™ GH-17
67
GOHSENX™ T-330
45
Biodegradability test:
comply with "Determination of the ultimate aerobic biodegradability of plastic materials in an aqueous medium-method by measuring the oxygen demand in a closed respirometer"(JIS K6950:ISO14851:1999)
Test conditions:
Specimen conc.: 100mg/lx, Application conc.: 90mg/l Standard test medium: 300ml,
Test temp.: 25±1℃, Test duration: 28days
Active Sludge: Sludge returned from Okayama Plant Mitsubishi Chemical
Applications:
The possible applications of GOHSENX™ T include:
Paper treatment agents

Improves surface and Z-axis strength as well as printability, and prevents vessel pick.
A partially saponified type is effective for improving barrier properties; therefore, used as an undercoating agent for silicon release paper.

Plywood adhesives

Improves initial bonding strength

Cement mortar agents

Excellent stability under alkalinity conditions



Paper Coating Properties of GOHSENX™ T
Product
IGT Pick
Strength
(cm/sec)
Z-axis
Strength
(kg/cm)
Permeability
(sec)
Oil
Absorptiveness
(sec)
GOHSENX™ T-330H
95
2.5
10
12
GOHSENX™ T-330
90
2.3
13
20
GOHSENX™ T-350
85
2.2
35
80
GOHSENOL™ N-300
65
1.7
8
10
Oxidized starch
50
1.3
8
8
Base stock: L-BKP 100%, basis weight 66g/m2  Size press: 90m/min line pressure 11kg/cm
Drying: 150℃×3min  Coating weight: 1g/m2
Dissolution
Dissolving GOHSENX™ T

Put GOHSENOL™ into water at room temperature while agitating it. After it disperses evenly, heat the solution and keep it at 80 to 90℃ for 30 to 60 minutes under continued agitation until complete dissolution.
Effluent Water Loads of GOHSENX™ T

| Polymer | COD (mg/kg) ×104 | BOD5 (mg/kg) ×102 |
| --- | --- | --- |
| GOHSENX™ T-330 | 99 | 83 |
| GOHSENOL™ | 60 - 100 | 50 - 100 |
| Corn Starch | 36 | 7,400 |
Measuring conditions: Sample conc. mean pure material conc.
COD was measured by potassium permanganate method (JIS K 0102), and BOD5 is a 5-day BOD value.
Measurement: Registration No. of measurement certification enterprise, Osaka No. 10013, KK Osaka Environmental Technology Center.