Technical Information
Polymerization and Saponification Value of GOHSENOL™ Products
GOHSENOL™ products can be roughly categorized into two types; a fully saponified type comprising mostly hydroxyl groups, and a partially saponified type retaining a certain portion of acetic groups.
The relation between the fully saponified type and partially saponified type can be illustrated as below.
Polymerization degree is usually indicated as a viscosity at a particular concentration (usually, 4% at 20℃).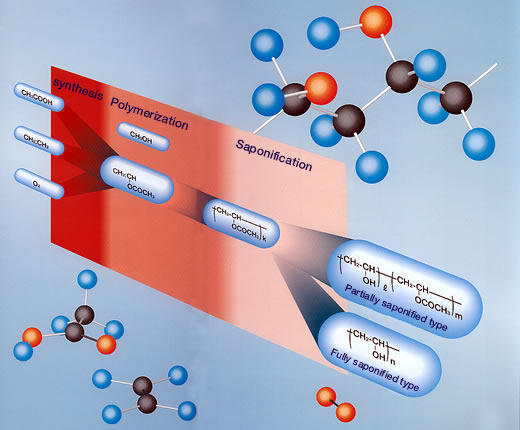 Influence of Degree of Polymerization and Saponification Value on Properties of GOHSENOL™


The characteristics of GOHSENOL™ products are governed by their Degree of Polymerization and Saponification Value as summarized below.

Degree of Polymerization
Higher
Lower
Solution Viscosity
Higher
Lower
Film Strength
Stronger
Weaker
Solubility
Less water-soluble
More water-soluble
Saponification Value
Higher
Lower
Solution Viscosity
Somewhat higher
Somewhat lower
Film Strength
Slight stronger
Slight weaker
Solubility
Less soluble in cold water
More soluble in cold water